Spitfire Audio – Inder Goldfinger Percussionist (KONTAKT)
INDIAN PERCUSSION INSTRUMENTS
MULTI INSTRUMENTALIST INDER GOLDFINGER WELCOMES US INTO HIS WONDERFUL WORLD WITH THIS ANTHOLOGY OF INDIAN PERCUSSION INSTRUMENTS AND ESOTERIC SOUNDS.
RECORDED DEEPLY AS BOTH MULTI SAMPLES, LOOPS AND GROOVES.
We have not set out to create a definitive
Inder, his personality, his style of playing and the wonderful collection of instruments he uses as
Part of his armoury.
We do not dare mention terms like 'world' or 'ethnic' within the concept of
This library should be massive
Failure of intention on our part.
This is the heritage, experience and invention of one man living
And working in the melting pot that is the United Kingdom.
The library centers around Inder's primary instrument, the Tabla, but extends way beyond that in a
Comprehensive collection of ** drums, cymbals, and other instruments.
Also featured in this library
Are Inder's extensive experiments using water to change the timbre, pitch and morph the sounds
Whilst playing (recorded with submerged water mics specially hired-in for the occasion!).
Requires full version of Kontakt 4.2.4 or higher.
Additional Information
• OVER 10GB OF DATA FROM 10,000s OF SAMPLES
• NUMEROUS ROUND ROBINS & DYNAMIC LAYERS
• ARTICULATIONS CURATED BY COMPOSERS
• NUMEROUS MIXABLE MIC PERSPECTIVES
• INTUITIVE FRONT END GUI
• PLAYS RIGHT OUT OF THE BOX
• SONICALLY FITS WITH OTHER SPITFIRE PRODUCTS
• INSTANT INSPIRATION.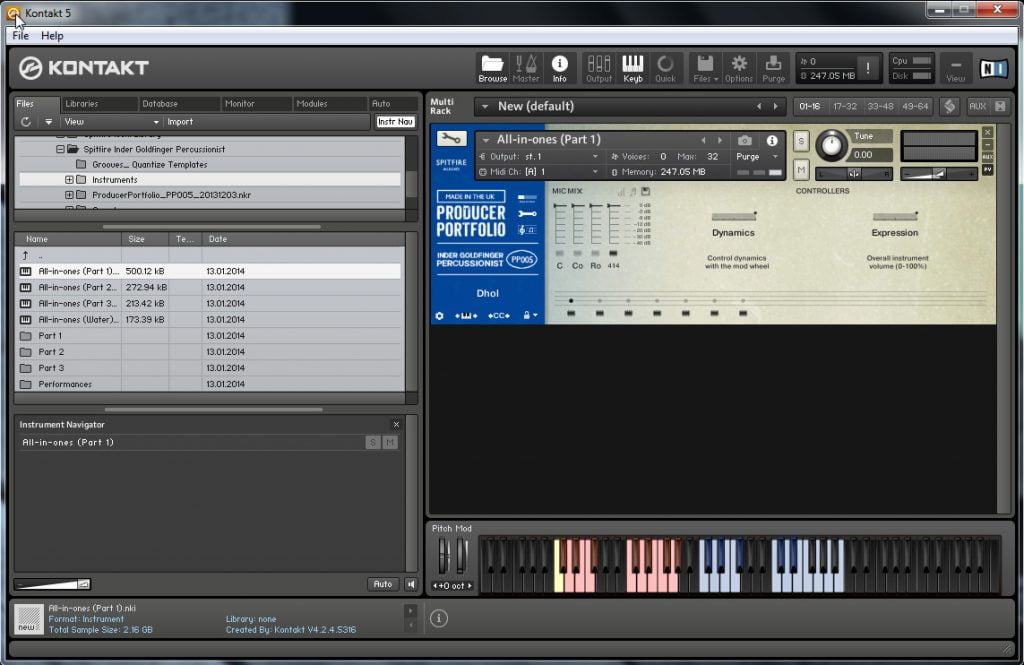 DRUMS & ARTICULATIONS:
– Ankle Bells Wet
– Australian Clave Wet
– Bell
– Bird Spinner
– Bull Roar
– Claves
– Dancing Bells Wet
– Dhol
– Dholak
– Double Splash
– Dual Vibra Slap
– Duff
– Finger Cymbal (dry & wet)
– Flexitone (dry & wet)
– Frog Spinner
– Gogo
– Gogo Wet
– Hand Cymbal (dry & wet)
– Large Damaru
– Large Gong (dry & wet)
– Madka
– Nakrah
– Prayer Bells Large (dry & wet)
– Prayer Bells Small (dry & wet)
– Rattle
– Small Damaru
– Small Damaru With Bells
– Spinning Burma (dry & wet)
– Taad Damaru
– Tabla
– Temple Bell
– Vibraslap 1 & 2 (dry & wet)
– Vibratone (dry & wet)
– Water Rattle 1
– Water Rattle 2
– Wood & Bell Rattle
– Zhils (dry & wet)
MICROPHONES INCLUDE:
– Close
– Close Ribbon
– Overhead
– Room Perspective
– Esoteric
Note: Move the content to the samples folder from the first part
In the folder should be 4 parts
PART 1 samples
PART 2 samples
PART 3 samples
Publisher

: Spitfire Audio
Website

: www.spitfireaudio.com/inder-goldfinger-percussionist
Format

: KONTAKT
Quality

: 24 bit 96 kHz stereo
PART 01
PART 02